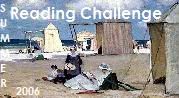 Seventh book (out of 21) read in the Summer Reading Challenge was Mary Lee Settle's
The Scapegoat
, deemed a "quiet masterpiece" by reviewer Anne Tyler, and the recipient of an honorable mention for the Janet Heidinger Kafka Prize back in 1981.
Fantastic book. Mary Lee Settle deserves a spot on the
Great Underrated Writer's list
most definitely. Southern foothiller that I am, I'm ashamed that I've only managed to be peripherally aware of her over the years, although I did take a stab at
I, Roger Williams
a few years ago--not the best one to start with, I'd say, since it isn't set on Southern soil.
A coal miner's strike took place in 1912 on land that Settle's grandfather's first cousin had owned prior the Civil War. She says in her preface that "as a curiosity" she'd looked at a Senate investigation transcript in the West Virginia State Library, discovering thousands of pages filled with the actual words of local miners and monied outsiders and Italian immigrants and Mother Jones herself, whose speeches coal owners hoped would lead to her arrest for sedition.
Out of the myriad voices captured in the report, Settle weaves a tale that begins at 3 pm one Friday in June with a photo op centered around a Gatling gun that mine owner Beverley Lacey has placed on his front porch--striking miners are living in tents down at the creek bottom near his property--and ends at 8 am Saturday morning after the first murder, but prior to the "big battles and the National Guard" that are to follow in the days to come. Moving steadily from individual to individual, Settle brings into focus all who are affected, by intent or bad luck, by the strike.
Square in the middle of the novel at the beginning of Part III ("7:00 P.M. to Midnight, Friday, June 7, 1912") Settle breaks her strict chronology with two separate epilogues. The first, told from the perspective of Lacey's middle daughter (the book begins in the voice of Lacey's youngest), is set 15 years in the future, and the second, providing the perspective of Lacey's oldest daughter, begins shortly after the sinking of the
Lusitania
as she graduates from Vassar and ends in France several weeks later with the expectation that she'll be joining the ambulance corps there. Then it's back to June 7, 1912, to a group of children catching lightning bugs among acres of clotheslines at the striking miners' camp, and a description of the tablecloths and clothes and sheets and quilts that "show a whole history in fragments" as they sway in the breeze.
The children think the adults know what they're doing and will protect them, but of course, things are soon going to get out of hand.
Recommended.