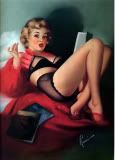 I'm not quite sure how my daughter came into possession of
The Great American Pin-Up
by Charles G. Martignette and Louis K. Meisel (her last trip to Germany? a friend's last trip to Germany?), but I though I'd amuse myself the other evening by flipping through its pages to find all the illustrations of women caught in the act of looking sexy while reading.
And fellow readers, I am sorry to report that pin-up artists don't appear to have been greatly inspired by the sight of a woman with reading material at the ready. There's a sexy teacher or two in the collection, but no sexy librarians.
There's the Edward Runci used by
Trish at Hey Lady! Whatcha Readin'?
seen above, and down below, three works by Edward D'Ancona, and singular paintings by Vaughan Alden Bass, Art Frahm and Gil Elvgren.