Montanan Rick Bass went to Nashville a few years back, angling for an interview with country music star Keith Urban. The interview, intended primarily to impress his then Urban-smitten young daughters, proved elusive, as might be expected, since Bass has a reputation for award-winning literary fiction, for nature and environmental writings, instead of celebrity puff-pieces.
But it wasn't a wasted trip east.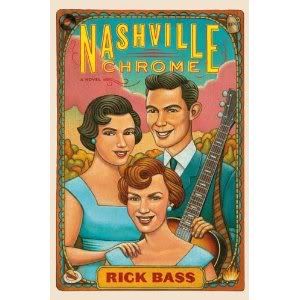 Bass soon found himself sidetracked into talking with former country-pop crossover star Maxine Brown, who'd achieved chart-topping success in the 1950s and early '60s as part of the singing trio the Browns. Bass would wind up writing
Nashville Chrome
, his just-released novel, based on the lives and careers of Maxine, the eldest, her brother Jim Ed, and her middle sister Bonnie.
The Brown children grew up poor during the Great Depression, helping out in their father's sawmill in a hardscrabble swamp in Arkansas.
The secret to his lumber's quality lay in his children's ability to discern pitch. At the end of almost every lunch break, the Brown children would be summoned to the saw-sharpening table, where the newly honed blade would be placed on an axle with a motor and then spun rapidly, as if being made ready for a cut. . . . The sound they listened for -- the perfect blade -- held an eerie resonance, the faint sirenlike echo of a high harmonic that was little different from the tempered harmony the Browns were already learning to achieve with their voices.
The children could imitate any performer heard on the radio. When Maxine secretly records Jim Ed imitating Hank Snow and sends a tape to the local radio station, he's invited to sing in a talent show; within a couple months, the children have formed the trio the Browns and are performing regularly. Fabor Robinson presents them with a contract after a show; they naively sign away all their rights, soon making their exploiter a multimillionare and leaving themselves with only what he deigns to pass on to them, which isn't much.
They may be Fabor's slaves, but success-wise they're equal to, and usually above, the likes of Johnny Cash and Elvis Presley. Bonnie has a sweet romance with Elvis before fame changes him. A pre-Ringo Starr quartet of Beatles spends a week with the Browns in an effort to learn how to duplicate their sublime harmonies (they can't). Jim Ed is as popular with the ladies after the shows as Elvis is, and Maxine falls first into the bottle, a predisposition she's inherited from her father, then, an unhappy marriage. And, too quickly, their star sinks below the horizon. Bonnie marries, happily, eagerly, a man with damaged hearing. Jim Ed goes solo. Maxine plots a come-back and drinks a lot.
It's unfortunate then that Bass seems as enamored with the Browns and their "no accident of circumstance" musical ability as his daughters undoubtedly were with Keith Urban; I grew weary of the repeat-play cosmic beat of fate and destiny to explain their extraordinary talent. Bass's style keeps us back, at a remove from all the interesting stuff that's happening, distancing us from these mythic performers he admires so much when he could have shown them to us up close.
Because, even more unfortunate than that repetition, is the fact that Bass too often gives short shrift to the rudiments of fiction. The language in
Nashville Chrome
is lovely, but comes across as that of a finely-crafted essay. Where's the dialogue, where're the actual scenes? Why write a novel if you're not going to put your characters (performers all!) in action, let the reader hear them speak, or think in their own words? I will admit to often appreciating a writer's connective tissue (as I think of it) between the scenes more than the actual scenes themselves, and heaven knows I'm not that interested in plot, but I don't think fictional trappings should be dispensed with nearly altogether--unless a writer's working in the experiemental or meta realm-- if you're going to call it a novel.
Perhaps Bass set out to do no more than to polish his prose until it shone like chrome, a literary counterpart to the Browns' own smooth sound. Perhaps it simply was a marketing decision to publish
Nashville Chrome
as a novel instead of putting it out as creative nonfiction. He mentions in the afterward that he has a new editor. I wonder.
I've been reading Rick Bass for a good 20 years -- "Wild Horses" in
The Watch,
his first collection of short stories, is still one of the most affecting stories I've ever read. Frankly, though, if it hadn't been for my previous experiences with Bass, I'd have left
Nashville Chrome
unfinished -- a shame, since the novel hits a late stride in the final third when there's less telling and more showing. An elderly Maxine, living on Social Security, alone and in poor health, wants to assure her musical legacy by locating a filmmaker willing to make a movie about her life (all country stars get a movie, she reckons). She places an ad on the Piggly Wiggly bulletin board and before long a young man with a vision as big as her own -- if not quite in synch with it -- enters the picture and expands Maxine's narrowing life.
If you're new to Bass, I'd start anywhere but here; try
The Ninemile Wolves
for his nonfiction, or
The Lives of Rocks
or
The Watch
for his short stories. If you're interested in the Browns, Maxine Brown has written an autobiography.
And I hear she's on Facebook.
(I reviewed a pre-pub e-galley of this book.)